Join School of Movement for a titillating evening of 'Movie Magic' Burlesque over two magical weekends, May 4,5,6 and 11,12,13.
The School of Movement brings you sexy-fun entertainment featuring highlights from your favorite films with our own sexy twist including: Star Wars, Titanic, Austin Powers, James Bond, X-Men, Singing In The Rain and more. Indulge in a night of shock and awe, laughter and lust.
Space is limited and tickets are expected to sell out.
Advance tickets:
Thursdays, May 4 & 11: $30.00
Fridays & Saturdays, May 5,6,12,13: $35.00
Purchase now online, here… or call 970-731-7469.
Add $5 each for tickets purchased at the door (if available).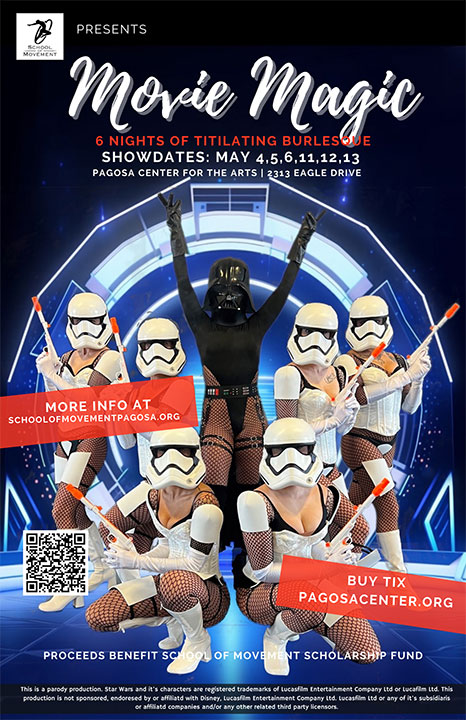 School of Movement is a non-profit 501C3 based in Pagosa Springs, Colorado. Our goal and purpose is to provide performance art opportunities to members of our community, and share in the creative spirit of live performance. By strengthening our community through these performances, we are creating artistic bonds, connecting with other performers, creating healthy connections, while empowering performers to expand their horizons in all avenues of their lives. School of Movement is dedicated to achieving more than ever before.
We continue to develop exciting ideas that improve the lives of others, and are very proud of the progress we continue to make. Learn more about what we do, who we help, and how we work every day to promote positivity at schoolofmovementpagosa.org.