2018-2019 Winter Season
Thingamajig Playwrights Festival
A Christmas Carol
Little Women
Cerebrotini: Stirred, but Not Shaken
Season Tickets for Winter 2018-2019 are available in two versions … with or without the 2018 Playwrights Festival.
---
2018 Thingamajig Playwrights Festival
The Thingamajig Playwrights Festival will run October 12-23. The Festival will include 'box' written and performed by Dennis Elkins, plus two new plays — and season ticket holders will have the awesome opportunity to observe the incubation of these new works during a week-long professional workshop.
box.
Written and performed by Dennis Elkins
Available with Festival Pass, or as an individual show
"box." is an autobiographical journey of cleaning house after parents/children die and we, those of us who are left, must choose what to keep and what to shred. The easy solution is to dump the stuff in a box and deal with it later—but, when "later" comes, we still agonize with the left-overs in a comical way. This 70 minute one-man play, performed without intermission, demands ransoming our lives from the boxes tucked away under the bed, back of the closet, down in the basement and up in the attic. Giving voice to the sometimes prickly, yet pleasurable, process of packing and unpacking our prized possessions.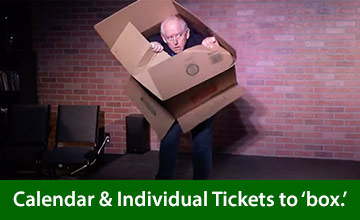 ---
A Dramatic Winter Season
The 2018-2019 Winter Season will also feature three wonderful productions:
A Christmas Carol
December 14-30
Along a midnight clear, "A Christmas Carol" comes bounding along in December. Just in time to add to the Christmas cheer in Pagosa! This Christmas classic adaption, by Dennis Elkins, comes as close to the original book by Charles Dickens as you can get. With a majority of the text coming straight from Dickens' pen, Elkins' adaption stays true to the book while highlighting Scrooge's forgotten humanity.
Little Women: the Musical
December 21 – January 20
While Christmas ghosts haunt the Thingamajig stage, "Little Women" will grace us for December and January. Based on the 1869 classic written by Louisa May Alcott by the same name, "Little Women" is the ultimate tale of sisterhood told through four sisters living and growing in the Civil War era. This heartwarming musical will have sisters, mothers, brothers, and fathers captivated by these young women.
Cerebrotini: Stirred, But Not Shaken
February 8 – 17
Pagosa Springs legend, Karl Isberg, is back again with "Cerebrotini: Stirred, But Not Shaken." The same mind behind "Welcome to Siberia, Now go Home!", Isberg has an unparalleled comedic pen. "Cerebrotini" will take you on an evening's romp through the ICU and ask the ever-important question, "Are there cocktails in the afterlife?"