Tanya Quinn got her start as an artist, at a young age, traveling to Florida arts & crafts fairs with her mother and doing face-painting "for hours" while mom sold jewelry and crafts.
"Later on, as I got older, we got into the pow-wow circuit… we'd travel around 'the middle of nowhere Florida' and set up, for up to ten days…"
A fascination with Native American cultures naturally evolved from that experience, and served as an inspiration for the 12-foot ceramic totem pole now on display in the Pagosa Springs Center for the Arts lobby, on Eagle Drive, where Ms. Quinn is the featured artist for the 2021 Summer Season.
The large ceramic piece — the largest creation in the show — evokes the playful yet enigmatic spirit of Northwest Coast totemic art, blended with elements of Mexican/Aztec imagery, as seen through the eyes of a multi-talented artist with a mischievous sense of humor.
That same sense of humor infuses all of the sculptures on display at the PSCA gallery, while the works range in size, down to miniatures only a few inches high.
Tanya earned her BFA in ceramics at the University of South Florida in Tampa in 2004, inspired by a professor who pointed out her natural talent.
"The ceramics department was very much trying to get away from 'traditional pottery'. There was still a lot of, like, '70s pottery around, and a couple of my professors were trying to break out of that mold. One was from Atlanta, and he was like, 'Let's change the world of ceramics!' And he made really wacky figures, and he told us, 'You don't have to follow this tradition, of brown and blue clay…" and I think he paved the way for a lot of us, to just do whatever the heck we wanted to.
"Pretty much right away, I found that I liked to make characters. People. So I just took off from there, and created my own style. And my professors could recognize my work, because my hands and faces were so distinctive…"
After moving to Pagosa Springs and showing work at The Shy Rabbit and other regional shows and galleries, Tanya put ceramics on 'the back burner' to design masks and props for Thingamajig Theatre Company.
In 2015, the theatre's co-directors Tim and Laura Moore decided to take the company in a more ambitious direction, by converting almost the entirety of PSCA's enormous lobby into the set for the Disney musical 'Tarzan' — and hired Tanya to help create an African jungle full of wild trees, vines, and bamboo groves.
Of course, sculpture is sculpture. Some sculptures are just larger than others.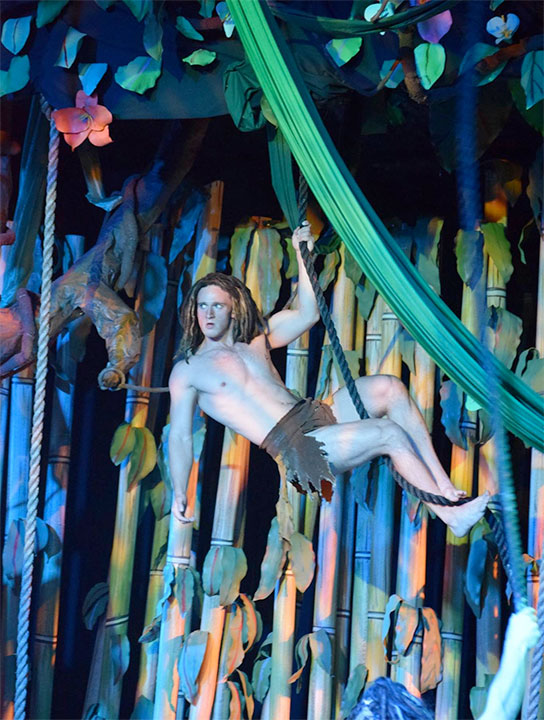 "I made the props for 'A Picasso', and then Laura said, 'Do you want to make props for the whole summer?' And I ended up taking over the entire summer. That's when I started working on the 'Tarzan' set, because her lead artist needed to learn how to make the trees and stuff… We had to make the set 'indestructable', but flexible at the same time, because the actors were crawling around on them…"
The relationship with the theatre company has continued, and this summer Tanya has transitioned from the props and set department to the PSCA's 'Featured Artist'.
How to view the show? The gallery/lobby is open for an hour prior to each performance of the summer's hit comedy, 'Sylvia' — showing through August 29 (click here to view the calendar of performances) — and also between 12 and 4pm on Saturday afternoons.