The Thingamajig Theatre delightful production of 'Miracle in 34th Street' — a musical re-working of the classic 1947 film starring Natalie Wood, Maureen O'Hara, and John Payne — plays its final four performances Monday (December 20) through Thursday (December 23) at 7pm at the Pagosa Springs Center for the Arts.
This adaptation — by Lance Arthur Smith, with original songs by Jon Lorenz — first took the stage in 2016, courtesy of San Diego Musical Theatre, and is set in a radio studio (in our case, the KWUF radio studio) and comes replete with clever radio-style commercial jingles (Tupperware, Macy's Department Store, RCA, Camel cigarettes…) expertly performed in five-part harmony.
The Thingamajig actors appear in '40s-style costumes created by Pagosa Springs artist Adrienne Young, who has been designing for Thingamajig for a number of years now. Our interview took place a couple of days before Opening Night, in the costume shop at PSCA, surrounded by shelves and racks of suits, dresses, hats, shoes and various other pieces of regalia from 10 years of Thingamajig productions.
Adrienne had a fat binder open on one of the sewing tables.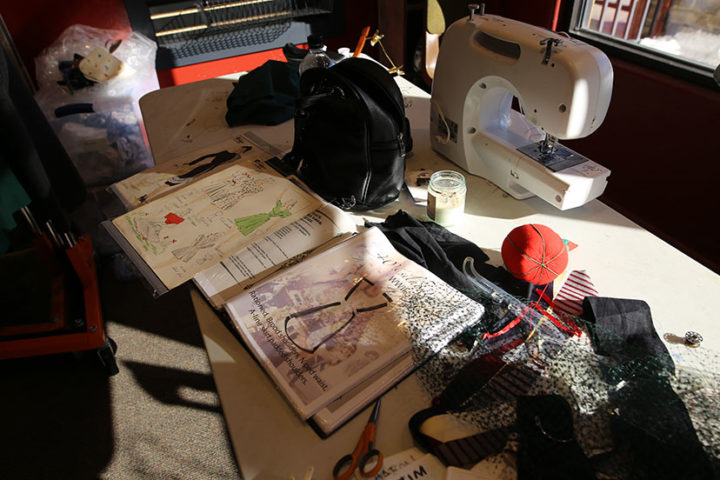 "This is one of my five binders that I have from my 'costume history' course and my theater costume program, and they go from 'period to period' — from the ancient Egyptians to the 1990s.
"My teacher made me put these together…"
Adrienne grew up in Pagosa Springs and attended Pagosa Springs High School — and then ran off to Hollywood to attend the Fashion Institute of Design & Merchandising, better known in the industry as FIDM (pronounced "Fit 'em).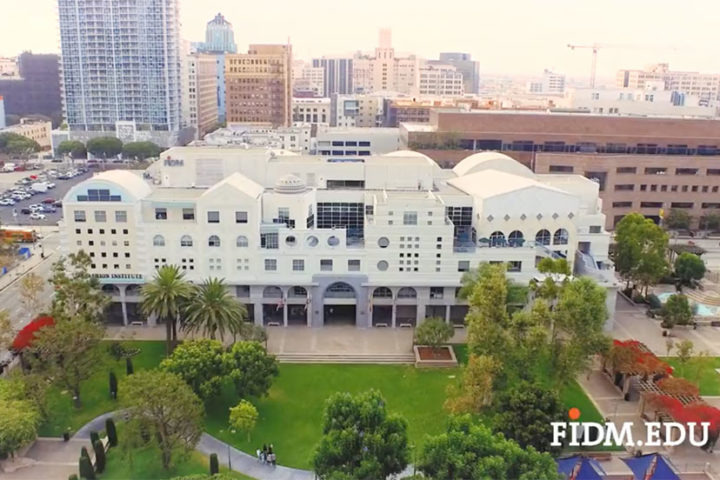 "So I did the fashion design program there, and realized that they wanted me to color in the boxes of the fashion design program — which I loved, but I didn't want to color inside the boxes. When I found the theater design program, I realized that was the place for me, where I could be 'over the top'. Doing what I like to do, which is one-of-a-kind theatrical pieces.
"The theater program was a full year, with only six of us who were chosen. And each of these binders goes through a certain period, starting off with your basic silhouette…and the key design features…"
"Just looking at the silhouette, from afar, you can tell what each time period looked like. What did the 1980s look like? What did the 1940s look like? And those two are actually really similar," she laughed.
"But capturing the basic silhouette is the most important thing, when you're designing for a certain period. So for the 1940s, for example — this was during World War II, and everything is rationed. Fabric goes to the troops…
"So design focused on: 'How am I going to make this dress interesting, if I have limited choices, because of rationing?'
"And also, because of World War II, the men are away at war, and women were taking on men's jobs. So we saw a lot of pants coming in, and overalls. But also, the silhouette becomes more masculine. You have shoulder pads. Broad shoulders. More of a man's features. A-line.
"There's no petticoats, or anything full, because of the rationing.
"After the war ended, Dior, in Paris, creates the new look for the 1950s. The troops come back from war, and the women are back into their household roles. So it's like 'over-the-top' fabrics and a hyper-feminine silhouette. The look was now, 'I am woman, to be your wife, to have your children… I'm so hot, but you have to put a ring on it.' That was the 1950s.
"Compared to the 1940s, seeing how women took on men's roles… and then, back into the house…
"So the 1940s is one of my favorite time periods, and it's been a dream to do a '40s show. And I actually have time, with this show — there's only a few actors, each wearing just one costume. A lot of the shows I do, with a large cast and several costume changes, I barely have time to even think of, what are their shoes going to be? What jewelry would they wear? To even 'finish' the look…
"But with this show, I'm actually able to build the costumes — recycling some older costumes I found in the Theatre stock and using their old fabrics. And creating my own '40s designs, which have been really fun — I feel like they are effortlessly coming through me, because of my obsession with costume history, and knowing about time periods.
"And also from selling vintage…"
Adrienne has been, for many years, the owner of the online clothing outlet 'Ghost Rabbits Vintage' featuring vintage and original clothing for women and men.
'Miracle on 34th Street' felt "effortless" to Adrienne, she said.
"I'm really enjoying it, a lot.."
To fully appreciate Adrienne's costume work — and the overall, uplifting energy of Thingamajig's 'Miracle on 34th Street' musical production — you can reserve your seat for one of the show's final four performances at http://www.pagosacenter.org or by calling 970-731-7469. Tickets are $35, and curtain time is 7pm.
Proof of vaccinations — or proof of a negative COVID test — and masks are required for the audience, following Broadway's COVID protocols.