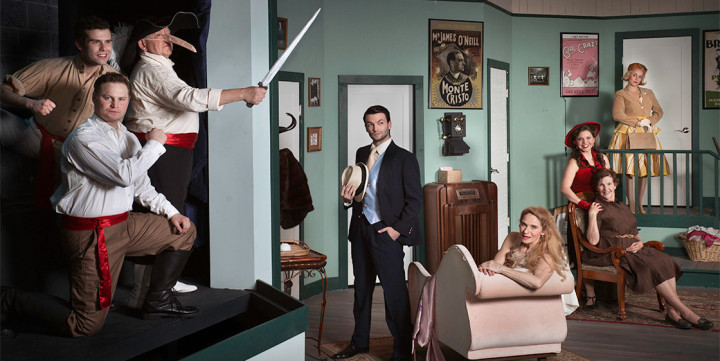 From the mind of Ken Ludwig (writer of Lend me a Tenor) comes Moon Over Buffalo, a play that centers on husband and wife acting team George and Charlotte Hay, two fading stars of the 1950s. In an attempt to keep their careers afloat, the couple is producing two plays simultaneously: Noel Coward's Private Lives and Cyrano de Bergerac.
Suddenly, George receives word that Hollywood director Frank Capra may be coming to see a matinee performance, giving them one last chance at fame! That is, of course, if they can remember what play they are doing. In short, everything that could go wrong does in this side-splitting, backstage farce full of romance, swordplay, prosthetic noses, and plenty of doors.
Featuring veteran actor and Thingamajig favorite, Dennis Elkins, the cast is full of high-energy, brilliant work. Opposite Elkins is long time Thingamajig affiliate, Pam Chabora as his wife, and Audrey Layne Crocker (Judy in White Christmas) as his daughter.
The man trying to keep the whole world together is portrayed beautifully and graciously by Justin Hofstad (Ariel in The Pillowman), in a farcical love triangle competition with Samuel Damare (Phil Davis in White Christmas). Also featured are Heather McCall (Betty in White Christmas), James Scott (Applegate in Damn Yankees) and Betty Schwicker. An ensemble that is familiar working together, the work is specific and fast and full of the kind of excitement that comes from trust built over time.
A group of actors playing a group of actors is undoubtedly filled with jokes and secrets of the backstage happenings that theatre-goers are delighted to learn. While the average audience member surely suspects insanity backstage, this farce is a beautiful example of just how crazy the world "behind the curtains" can be. Watch as people step into roles unexpectedly, find out who's cheating on who, and more than anything, watch to see if they can pull off the most important show of their lives.
Show Dates: January 8, 9. 14, 15, 16, 21, 22, 28, 29, 30 at 7pm
January 10, 17, 23, 24, 31 at 2pm
Call 970.731.SHOW ( 970-731-7469 )for more information.