"Musical theatre at its best – great songs, witty lines.  Smart, sassy, spectacular."
– The Daily Telegraph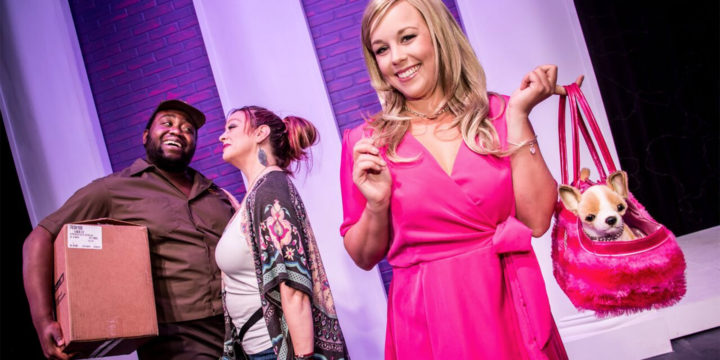 Thingamajig Theatre Company kicks off their 2018 summer season with a fan favorite: Legally Blonde: the Musical. Based on the movie and book of the same name, this musical is hilarious and heartwarming. With this fun show, you'll be tapping your feet in no time.
Elle Woods, played by Heather McCall, is prepping for a date with her long time boyfriend, Warner Huntington, played by Charlie Tingen. She hopes this date will end in a proposal, but ends with Warner breaking up with her because she is more "Marilyn, not enough Jackie" — insinuating that Elle is not serious enough to be Warner's wife.
In a moment of brilliance, Elle decides to win him back by following Warner to Harvard Law School.
Like a fish out of water, Elle has some growing pains in her new town, but learns to get down to business and let her intelligence shine brighter than her blonde hair. In the perfect, "don't judge a book by its cover" story, you will fall in love with Elle and her tiny Chihuahua, Bruiser.
The musical has the same fun, comedic feel as the movie, but takes more time to highlight special moments. The "Bend and Snap" gets a quirky musical make over with an entire dance number dedicated to a woman's number one pick-up move. The show even boasts a high-energy number where the actors sing and dance while skipping rope, an impressive cardiovascular feat. The entire ensemble proves their worth through their physical endurance and versatility on stage.
Boni McIntyre is a triple threat in this production. She is directing, music directing, and playing Paulette. McIntyre takes this beast of a quirky show and pushes it to the next level with every choice — by inspiring heartfelt comedic moments and bringing out superb vocal work from everyone in the cast.
The costumes, designed by Nanette Cheffers, highlight the major differences between the West Coast world Elle knows and the East Coast world to which she must adapt. All of Elle's 18 costumes shift to show her personal transformation while staying true to the pink lover's personality.
The set, designed by John Santangelo, smoothly shifts from the Delta Nu dorm to the halls of Harvard, while giving ample room for high kicks and skipping rope.
Laine Wong, the lighting designer, has taken the entire Legally Blonde world to the next level. Each moment helps breathe even more life and excitement into the action on stage while helping to bring the audience into Elle's world.
Altogether, the entire production is exciting and fun for all people. Whether you're a Harvard Law grad or a Cali girl, you'll be sure to enjoy this show. You don't want to miss Legally Blonde!
For tickets, call 970-731-7469… or click the buttons below…